Straighten crooked teeth using brackets or clear aligners
I was made to feel very comfortable as I was a bit scared but the work they have done to straighten my teeth is fantastic, and I can smile like this after 6 months!

I am really, really please and it has transformed my life.

Sarah
Gentle Orthodontic Treatment at West Malling, Kent
Orthodontics for all ages
With over 40 years experience of treating adults and children – Dr.Miller specialises in "Gentle Orthodontics". He combines modern orthodontic techniques with a strong preference for improving the 'arch shape' whenever possible and not extracting teeth.
Because your upper jaw is not 'set back' this produces a much better facial profile with a less obvious nose. It may also result in fewer sinus related problems and easier breathing.
Dr Miller may use a combination of "Clear Aligners", "Train Tracks" and "Arch Expanding Braces" but whatever the treatment protocol, he carefully monitors the treatment progress and adjusts your appliances to minimise both the time of treatment and any discomfort.
Where appropriate, Dr. Miller uses "Clear Aligners". These are almost invisible bespoke, firm and thin, alignment coverings that can lead to treatment times as short as 3 months. When "Train Tracks" are required, he prefers to use porcelain brackets that again tend to make your appliance less visible.
This treatment is suitable for children and adults of almost any age! Orthodontics can be used for the straightening of crooked teeth, alignment of the gum line, closing spaces between teeth, correcting flared teeth.
Invisalign clear Aligners
Comfortable, clear and removable, Invisaligns clear aligners are a highly effective way to transform your smile without interrupting your lifestyle. This form of Orthodontics is near invisible on your teeth and because you hardly notice you are wearing them, for many they are the ideal orthodontic treatment. Millions of people worldwide have chosen this system for good reason.
If you decide to use only "Clear Aligner" treatment, we will initially take an impression of your teeth. We'll use these impression to make models. From these, we can visualise how you'll look after treatment.
You'll have the chance to make any changes your feel are necessary, and we'll workout how many steps are needed to achieve your desired result.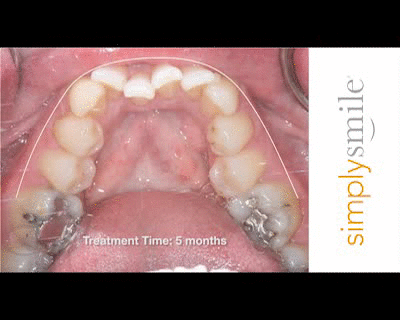 Straighten Front 6 Teeth
Simply Smile Orthodontics
Simply Smile is specifically designed to straighten your front six teeth. Rather than treat how your back teeth bite together we focus on improving your smile. This means treatment is much quicker than traditional orthodontics. Simply Smile braces are made of clear ceramic brackets and tooth coloured wires, the whole brace blends to the colour of your teeth making it very discreet.